2019 Lab Leaders Forum and Mid-Winter Meeting
Quick Links
Location
Registration
Schedule
February 8-9, 2019, Friday-Saturday
Mokara Hotel & Spa on the River Walk
212 Crockett Street
San Antonio, Texas
NILA's Annual "Lab Leaders Forum" and Mid-Winter Meeting for clinical laboratory executives (CEOs, CFOs, COOs, Presidents, VPs, and other Laboratory Executives) offers the ideal platform for personal interactions, shared insights, and networking.
Topics to be discussed at the Mid-winter Meeting:
PAMA, including the status of

A Lawsuit Challenging CMS's Methodology for Changing Part B Clinical Laboratory Fee Schedule (CLFS) Rates, and
Possible Legislative/Regulatory "Fixes" to CMS's Methodology for Setting CLFS Rates.

NILA's Pre-Payment Issues Committee Report and Strategy, including the results of

Meetings with HCSC, Anthem, Other Insurers, and
Follow-up Actions

NILA's Opioid Task Force Report and Strategy, including

The Task Force's "White Paper," and
Progress on Developing Partnerships/Collaborations with Other Stakeholders.

FDA Oversight of LDTs
Proposed Increase in CLIA Certificate Fees
Outlook for the Clinical Laboratory Industry, and
Other topics that YOU want to discuss.
This meeting is restricted to NILA members. In order to register, your laboratory must be a current NILA member. For information on joining NILA, click here.
Preliminary Schedule of Events
| | | |
| --- | --- | --- |
| Date | Time | Function |
| Friday, February 8 | 8:00 a.m. - 5:00 p.m. | Breakfast/Meeting/Lunch |
| Saturday, February 9 | 8:00 a.m. - 1:00 p.m. | Breakfast/Meeting |
This meeting is an open forum and encourages interaction. See a detailed schedule of events here.
Location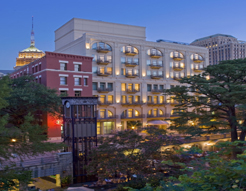 The Mokara Hotel & Spa is a relaxing retreat on San Antonio's world-famous River Walk. San Antonio's only Forbes Four-Star Hotel, the Mokara provides luxurious accommodations, first-class amenities, fine dining, a full-service spa, heated pool and easy access to the River Walk, shops, and restaurants.
San Antonio is an ideal blend of Texas history and cosmopolitan city. Discover centuries of history from the Alamo to San Antonio's missions to La Villita, or tempt your palette with authentic Tex-Mex cuisine. The Mokara is located in the heart of San Antonio's Cultural Arts District, next to the restored Majestic Theatre and within walking distance to the Convention Center and Rivercenter Mall.
Make plans to come early or stay a few days after the meeting to enjoy San Antonio. Visit the following links to learn more about the Mokara, the River Walk and San Antonio.
Mokara Hotel & Spa | San Antonio River Walk | Visit San Antonio
Travel & Hotel Accommodation
Reserve your room today! January 17, 2019, is the deadline for guaranteed availability of hotel rooms at NILA's group rate: $259, single or double occupancy, plus applicable taxes and service fees. Rooms may still be available after January 17, but not necessarily at the group rate. Make your reservation online or call toll free (800) 785-1400. Be sure to identify yourself as a participant in the NILA Lab Leaders Forum to qualify for the group rates.
Book your flight now! Good airfares are available to San Antonio, so book your flight NOW! Check with your travel agent, the airline websites, or reseller websites (e.g. Orbitz).
Registration
Register now! Complete this registration form, and return it to the NILA office, or complete the online registration below.
This meeting is restricted to NILA members. In order to register, your laboratory must be a current NILA member.